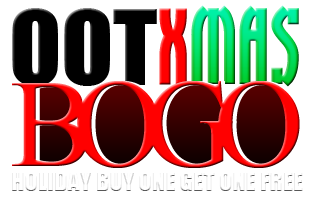 Welcome to the outoftouch XMAS BOGO 2012!
This holiday season is sweet! Save upto

30 % off

on any item in the outoftouch Renderosity store and with every product purchase, receive another product for free!
Please read the RULES below carefully.
We wish you a jolly holiday season!






1. Buy

any*

product from the outoftouch store at Renderosity.com. The sale is good from 19th through 31st of December 2012.

2. You are eligible to choose another product from the BOGO selection of 45 products below for free.


Example: If you buy 3 products, you are eligible to choose 3 free products.



3. The free product must be of the same (or lower) value as the purchased one.

4. Send a SITE MAIL to

outoftouch

at Renderosity.com with your ORDER ID, your username along with the title of the free product you chose.

5. We will process your request in 24 - 48 hours.





*any product means products that are created in partnership with other vendors count too.








You may choose a free product from these product selections.
Please remember, the free product must be of the same or lower value as the purchased one.
Small differences of 5 - 10 cents are allowed.